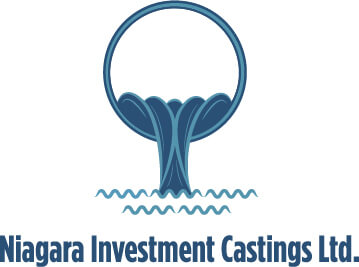 Welcome to our website.  We are pleased that you have made the decision to visit and learn more about our company.
This website you are visiting is intended to introduce you to our company, a business built on a reputation for Quality and a culture for Customer Service.  Our goal is to educate our visitors that investment castings offer a unique, versatile, and innovative manufacturing process based on the concept that flowing and solidifying metal into near-net shapes can offer the best and most cost effective solution for highly detailed metal components.  Our castings can provide exceptional benefits when compared to traditionally more restrictive and expensive alternate processes, such as machining from solid, assemblies, forgings, and many other manufacturing processes.
Niagara Investment Castings has been located in the beautiful Niagara Region since our inception.  Our modern facility is ideally situated on five acres of land in St. Catharines, Ontario, Canada, at 16 Smith Street.  We are located within minutes of access to Ontario's major highway system as well as three major airports, and 20 minutes from several USA border crossings.
Originally offering processes such as forgings and sand castings, evolution of the business came quickly as our clients needs changed.  In the eighties, our company added several additions onto the facility to accommodate our rapid growth, and in the early 2000's the decision was made to fully dedicate to exclusively manufacturing our innovative lost wax investment castings in a growing wide range of alloys.  Since that time, we have manufactured a diverse range of investment castings for many industries worldwide.   Today, we are proud to offer ISO9001 quality, a high degree of service, and technical support and design assistance to all our customers whether they need just one piece, or thousands of pieces.  Our business is determined to be recognized as the leader in the markets we serve.  Our people take pride in being responsive to the many varied needs of our clients, and we are committed to Customer service above all else.
Investment casting offers the designer unlimited potential and freedoms not available with many other processes.  Our hands-on approach to working with our clients helps them to continually uncover this potential in new applications for our precision castings in today's lean and cost conscious manufacturing world.  We are flexible to the needs of our customers, and provide a level of service that we are proud to say our long term relationships are built on.  We work with our clients from concept to completion, and can even provide turnkey finish machined components, tested, certified, and ready for use.
Our core business is manufacturing investment castings in "base metals" such as Carbon and Low Alloy Steels, High Alloy Stainless Steel, Nickel Base, Cobalt Base, and Copper Base alloys. We manufacture castings to virtually any customer requirement, from commercial grade to more stringent applications. Investment castings are manufactured in a weight range from under 1 pound up to 200 pounds.   Support services include casting design and reverse engineering, tool building, rapid prototyping, machining, heat treating (including air, inert atmospheres, and vacuum), non-destructive testing, passivation, and many other value-added services.
Our ability and desire to work "hands on" to solve problems and reduce our clients outsourcing costs has allowed us to continue to grow our presence in many new industries, no small feat considering the relentless onslaught of cheap offshore castings flooding the market.
Niagara Investment Castings maintains compliance with strict quality assurance policies and practices, including European PED standards, nuclear specifications, various military, federal government, ASTM and ASME standards.  We are proudly certified to ISO9001 and the environmental standard ISO14001.
We are committed to innovation to remain on the leading edge of our industry, which has resulted in our ability to offer such advanced services as rapid prototyping, solidification modeling, and 3D design assistance of castings and related tooling for our clients. Recent years have seen the installation of the most advanced shell building robotics available, as well as highly advanced flash fire dewaxing technology, and other material handling systems to support our sustainability as a viable entity to our employees, to our Customers, and to our Corporation.
Finally, being a Canadian based metalcasting business, we cannot emphasize enough that we have not … do not … and will not, compromise what we believe in and sell castings produced from another manufacturer in a low cost country.  We stand for quality and service, and we won't put our name on product we didn't produce under our strict process control.   We stand for the long term health, viability, and sustainability of our company and our employees, because we believe that we successfully compete each and every day on the basis of value for your casting dollar.
We hope our website will educate and inspire you to contact us to find out how Niagara Investment Castings can help you with your investment casting requirements. We appreciate the opportunity to quote on any existing applications you may have, and we especially look forward to working with you to convert other more costly processes over to investment casting.
Niagara Investment Castings is proud to be a member of the Zynik Foundry Group since 2021.  We have been a Canadian based leader in the manufacturing of high quality investment castings since 1987, with our foundry roots established in the same location in the Niagara region of southwestern Ontario for over 50 years.  Today, we boast a modern 45,000 square foot manufacturing facility utilizing the latest in metalcasting expertise, 3D technologies, and prototyping capabilities, staffed with an experienced and dedicated team of foundry professionals.
The Zynik Foundry Group began in 2018 with the vision of building a portfolio of high quality metal casting businesses throughout North America.  This vision is to provide our valued clients with an efficient "One Stop Solution" for sourcing all of their casting requirements.  The Zynik Foundry Group currently consists of Niagara Investment Castings, plus three other unique metalcasting businesses, and is keenly focused on growing our products and services available to our clients through further acquisitions and mergers of the right mix of other high quality and respected metalcasting businesses to meet that Vision.
Please ask us how we can help you with any of these complimentary casting services, or click to visit any of our sister companies at the links below.  We are your "One Stop" source to assist you in finding the right partner for your casting requirements.
Founded in 1956

Located in Tecumseh, Ontario, near the Windsor-Detroit border

Metals offered are aluminum and zinc

Die casting with capability of up to 1,200 tonnes
Value Added Services
Engineering

Machining

Impregnation

Thermal Deburring
Founded in 1950

Located in Grimsby, Ontario, near the Niagara/Buffalo border

Manual no bake sand casting of up to 8,000 pounds weight

Metals offered are grey iron and ductile iron
Value Added Services
Machining

Solidification modelling

Foam patterns

Heat treating

Painting
Founded in 1923

Located in Minneapolis, Minnesota

Automatic molding of green sand castings of up to 110 pounds weight

Metals offered are grey iron and ductile iron
Value Added Services
Machining

Engineering and design

Heat treating