Welcome to Niagara Investment Castings
Niagara Investment Castings is ideally situated on five acres of land in St. Catharines, Ontario, Canada, within minutes of access to Ontario's major highway system as well as three major airports, and 20 minutes from several USA border crossings.  Since we originally only offered processes such as forgings and sand castings, the later years of our time at our location saw several additions built onto the facility to accommodate our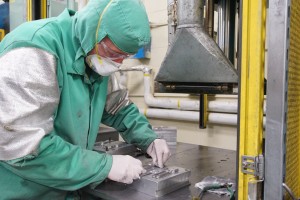 rapid growth, and eventually the decision was made to fully dedicate to growing our manufacturing capabilities for innovative lost wax investment castings in a wide range of alloys.  Since that time, we have manufactured a diverse range of investment castings for many industries worldwide.   Today, we are proud to offer ISO9001 quality, attentive service, and technical support and design assistance to all our customers whether they need just one piece, or thousands of pieces.  Our business is determined to be recognized as the leader in the markets we serve.  Our people take pride in being responsive to the many varied needs of our clients, and we are committed to Customer service above all else.
The website you are visiting is intended to help to educate viewers that investment casting is a unique, versatile, and innovative process based on the concept that flowing metal into a high quality mold to produce highly detailed and accurate metal castings, can provide exceptional cost benefits when compared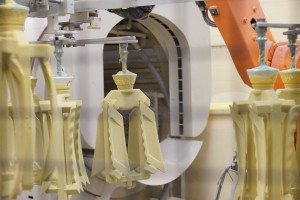 to traditionally more expensive alternate processes, such as machining from solid, assemblies, forgings, and others.  In addition, investment casting offers the designer unlimited potential and freedoms not available with many other processes.  Our hands-on approach to working with our clients helps them to continually uncover this potential in new applications for our precision castings in today's lean and cost conscious manufacturing world.  We are flexible to the needs of our customers, and provide a level of service that we are proud to say our long term relationships are built on.  We work with our clients from concept to completion, and can even provide finish machined components, tested, certified, and ready for use.  Our core business is manufacturing investment castings in "base metals" such as Carbon and Low Alloy Steels, High Alloy Stainless Steel, Nickel Base, Cobalt Base, and Copper Base alloys. We manufacture castings to virtually any customer requirement, from commercial grade to more stringent applications. Investment castings are manufactured in a weight range from under 1 pound up to 200 pounds.   Support services include casting design and reverse engineering, tool building, rapid prototyping, machining, heat treating (including air, inert atmospheres, and vacuum), non-destructive testing, passivation, and many other value-added services.
Our ability and desire to work "hands on" to solve problems and reduce our clients outsourcing costs has allowed us to continue to grow our presence in many new industries, no small feat considering the relentless onslaught of cheap offshore castings flooding the market.
Niagara Investment Castings maintains compliance with strict quality assurance policies and practices, including European PED standards, nuclear specifications, various military, federal government, ASTM and ASM standards.  We are proudly certified to ISO9001 and the environmental standard ISO14001.
We are committed to innovation to remain on the leading edge of our industry, which has resulted in our ability to offer such advanced services as rapid prototyping, solidification modeling, and 3D design assistance of castings and related tooling for our clients. Recent years have seen the installation of the most advanced shell building robotics available, as well as highly advanced flash fire dewaxing technology, and other material handling systems to support our sustainability as a viable entity to our employees, to our Customers, and to our Corporation.
Finally, being a Canadian based metalcasting business, we cannot emphasize enough that we have not … do not … and will not, compromise what we believe in and sell castings produced from another manufacturer in a low cost country.  We stand for quality and service, and we won't put our name on product we didn't produce under our strict process control.   We stand for the long term health, viability, and sustainability of our company and our employees, because we believe that we successfully compete each and every day on the basis of value for your casting dollar.  In fact, we especially extend a special invitation to our American friends to find out just how much value their currency can bring from our Canadian operation without the risks of needing to buy offshore.
We hope our website will educate and inspire you to contact us to find out how Niagara Investment Castings can help you with your investment casting requirements. We appreciate the opportunity to quote on any existing applications you may have, and we especially look forward to working with you to convert other more costly processes over to investment casting.
Test Heading
Your content goes here. Edit or remove this text inline or in the module Content settings. You can also style every aspect of this content in the module Design settings and even apply custom CSS to this text in the module Advanced settings.
asdgasdg
asdg
aasdg
asdgasdg
asdg
asdgasdg